Fastrack MotorSports
Life on the Fastrack
Every month, thousands of people watch two vehicles blast down the track. The sounds, the smells, the excitement and the thrills of watching two drivers place it all on the line. This is the life that Frank Vincent and the crew at Fastrack Motorsports live and bring to you, the drag racing fan.
Drag Racing, the straight track, down the lane in a blaze of smoke and glory. Whether you like Stock, Funny Car, Top Fuel or even Motorcycles, drag racing can bring it all to you.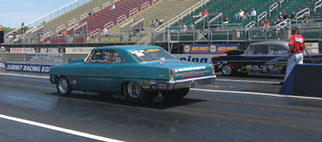 Take a look!
We invite you to take a look around our site and if you have any questions, please don't hesitate to ask them. Frank races anywhere East of the Mississippi, so keep a lookout for him at your favorite track.
About Us
Fastrack Motorsports is owned and operated by Frank Vincent and is headquartered in Medina, Ohio. Frank has been building and driving race cars for over 20 years and has memberships with the NHRA, the IHRA and several other organizations. Frank is also a licensed Class A truck driver with special endorsements for Hazardous Materials.
On any weekend Frank can be seen driving his 1966 Nova or at Special Events, a Mustang for Team Premium Racing. Frank has owned and driven a Top Alcohol Dragster and has been known to customize many a vehicle both on and off the track.